Thanksgiving might be my favorite holiday, mostly because I love food and any excuse to over-eat is good with me. Actually, I love the idea of sitting around with your loved ones - family and friends - and everyone expressing gratitude for their blessings. I like that it's a spiritual experience but not a religious-specific one, and I defy anyone who says they don't feel peace and love when talking about what they are thankful for.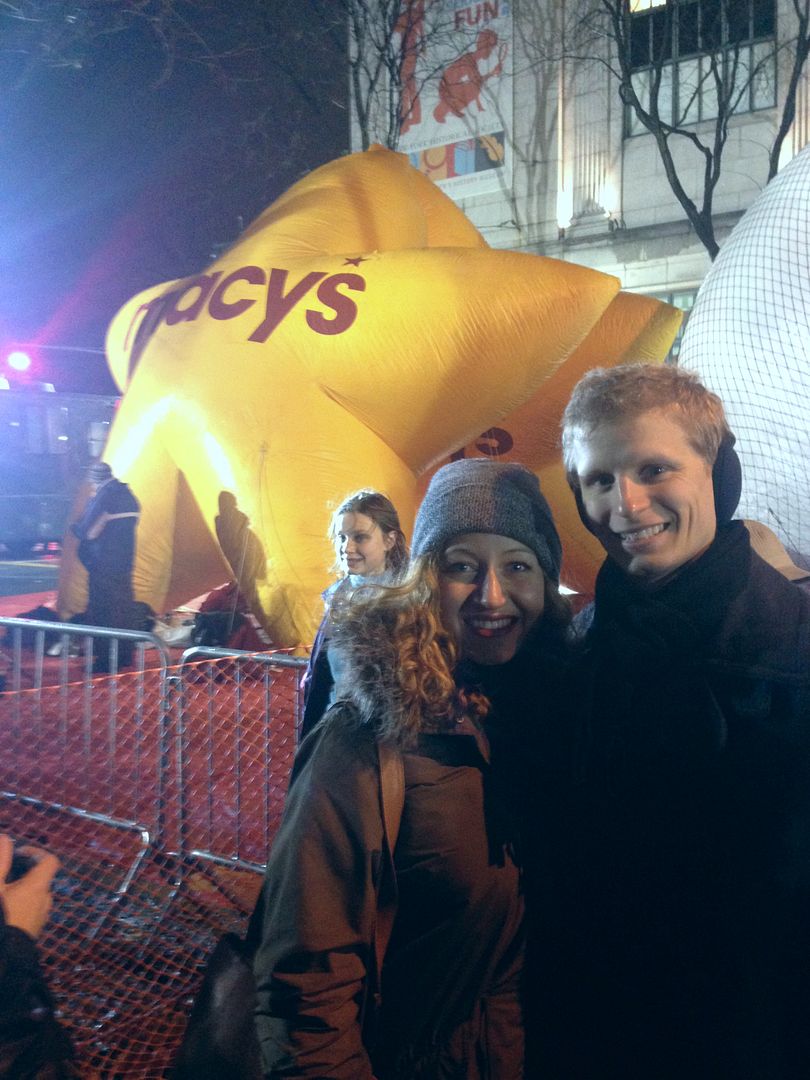 This year, Spencer and I had a pretty chill Thanksgiving. I had to work on Friday, and my in-laws are in California to see their new grandchild, so we stayed in the city and had Friends-giving. We saw the parade balloons be inflated Wednesday night and then walked across the park on Thursday and caught the last half of the parade. Afterwards, Spencer and I experienced a very New York Thanksgiving by eating the most delicious Thanksgiving dinner in a tiny apartment with 10 other people. No joke - I sat on our friends' bed while eating my meal, haha!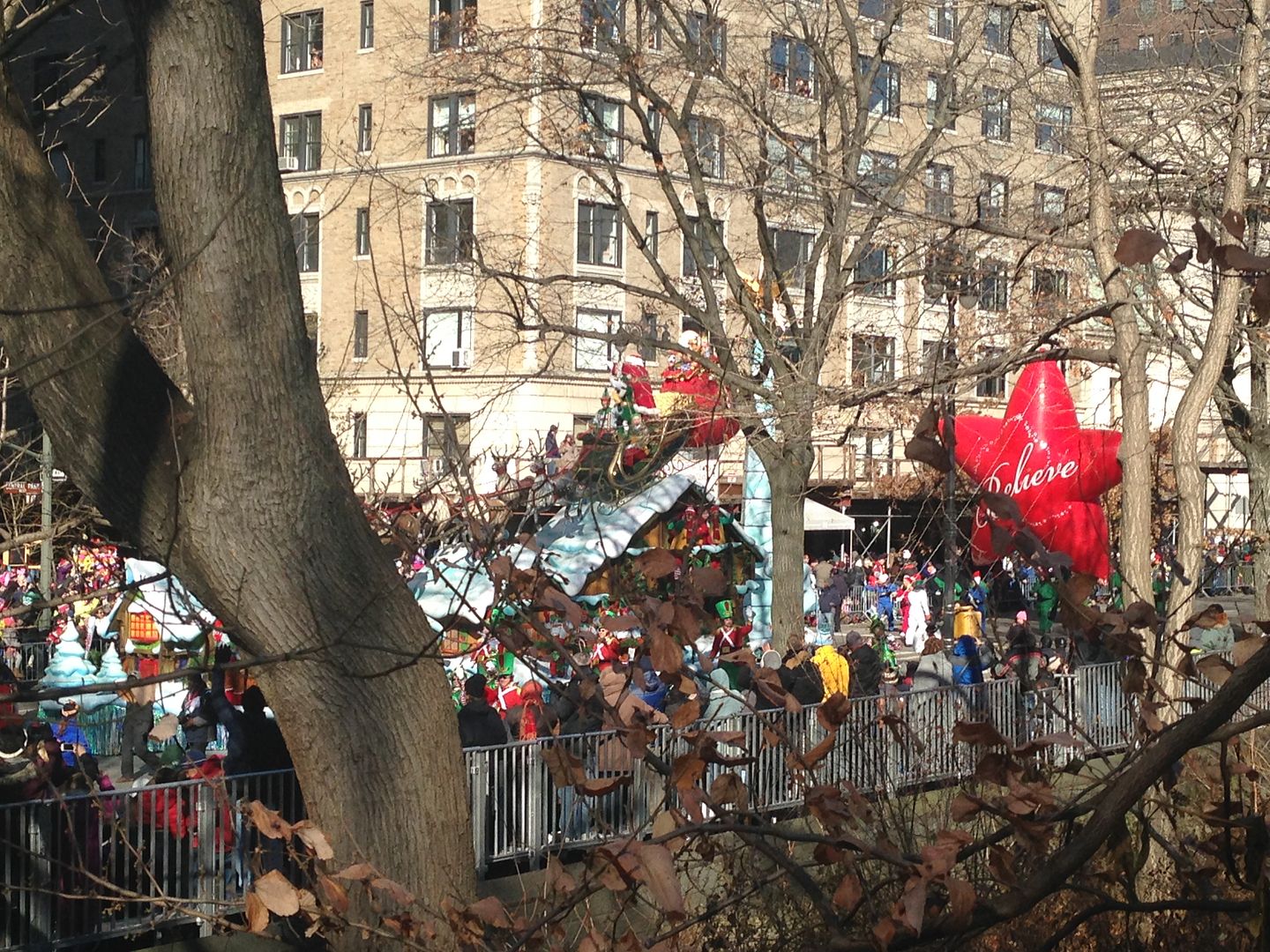 Santaaaa!!!!! And considering we woke up at 9 am, I'd say this view was perfect.
The rest of the weekend was just as wonderfully chill and full of together time as after work on Friday, we went to a friend's house to help trim their tree and eat their leftovers. Saturday was Catching Fire at 10 am (loved it!), followed by napping, reading an entire book, and doing laundry. Sunday saw us at church, napping and reading some more, and polishing off our own leftovers. To say I had the Sunday-night blues after this long, perfect weekend is a vast understatement.
As Thanksgiving approached, I tried to think of what I was especially grateful for in 2013. 2012 was full of large life changes (new apartment, Spencer's graduation, and his job) that made that question "what are you grateful for?" easily answered. 2013, on the other hand, was much more of a chill year - a great one but not particularly outstanding. Anyway, I did some pondering, and here's a few things I've been particularly thankful for this year:
- Wonderful friends. Living in New York means that people are constantly cycling in and out of the city, and we've had a LOT of friends move in the two years, which never gets any easier and I miss terribly all those who have moved away. Luckily, Spencer and I have made some fantastic friends this year, and we've had a really fun year. Then I have my work friends who make those monotonous work days go by so much faster! We chat and laugh, and I couldn't survive my days without them. And how can I not mention
my internet friends
, especially those who become real life friends? I truly have an over-abundance of good friends, and I do not deserve them.
- Spencer's vacation policy. Spencer works his tiny hiney off, but thankfully, his company also has a decently lax vacation policy, and he's been able to take a good amount of time off this second half of this year. (It almost makes up for those multiple all-nighters at the office. Almost but not quite.) He took the entire Thanksgiving week off, did all the grocery shopping and cleaning, and tailored some of my clothes with his brand-new sewing machine. On top of that, we've spent more time together at home in the past two weeks than we had in over a year. Honestly, I had forgotten what is was like to spend a weeknight with him, and I'm glad I got to remember.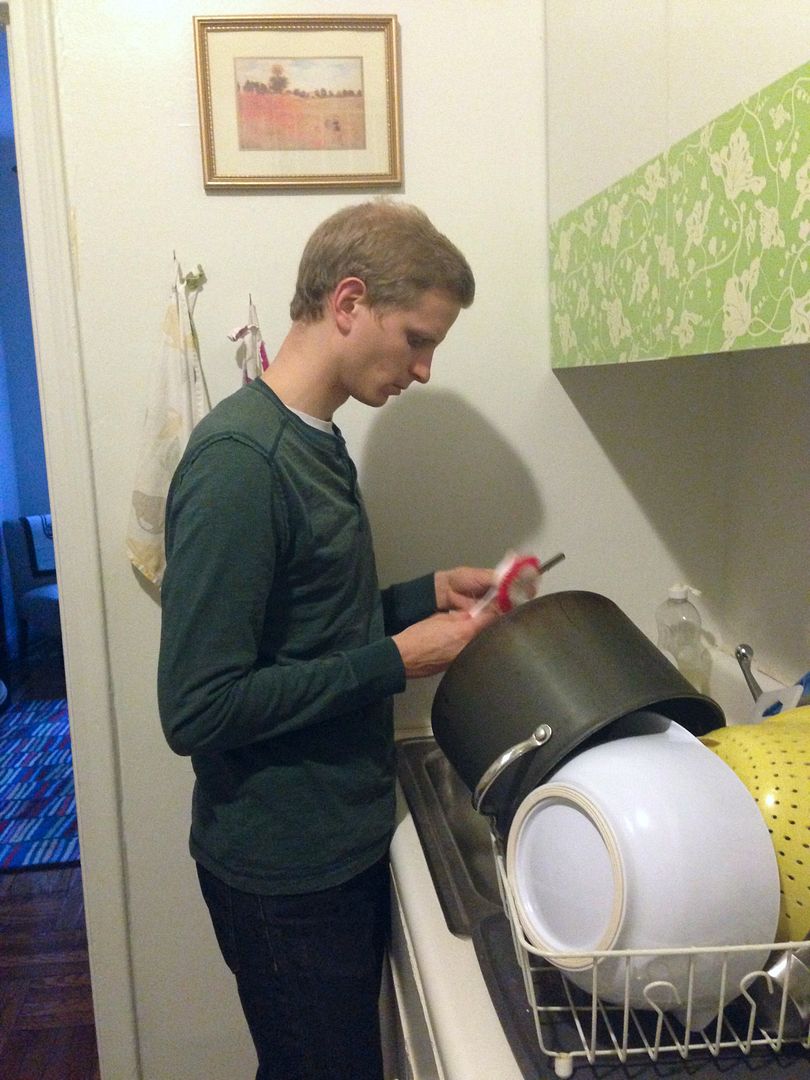 My dish duties have lessened by like 70% since this hottie has been around so much. No better way to capture my heart.
- Cooking. This might sound silly, but yeah, I'm grateful for cooking, which I didn't do for the majority of 2013. With Spencer working late and getting dinner at the office, I rarely cooked at all this year up until a couple of weeks ago, when I decided to start making a menu with real dinners once again. I had forgotten how much I love to cook, and oddly, how good it makes me feel about myself. Even if the food doesn't taste all that great, something about making a dish from scratch really boosts my self-esteem (as if it needed to be any higher, bah!). My crowning glory this year was my first homemade flaky-crust pie that I made for Thanksgiving - a cherry one complete with lattice top.
Didn't taste too bad neither
- Patience. I am NOT a patient person, and I think many trials in my life are to teach me patience, which I'm definitely learning way too slowly. Thankfully, between Spencer helping me and turning to God for peace, I've been able to acquire some much-needed patience as I've struggled this year with career-related questions and our infertility issues (both of these things are still on-going).
- Technology, mostly so I can see my family regularly and get pictures likes this of my sweet niece: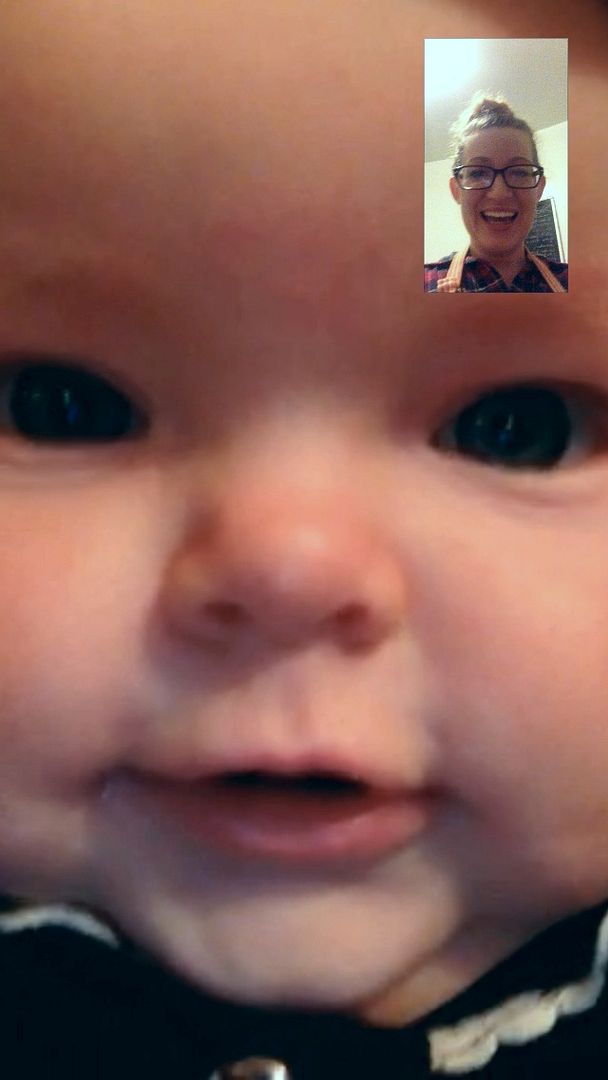 This was right before she tried to eat the phone, haha! And please ignore my face.
Other 2013 stand-outs are
family reunions
,
running
(especially those ragnars!), biking, and
trips we taken
. I guess I have to retract my earlier statement - 2013 really has been an outstanding year.
USC's
Gratitude Campaign
---
I'm also over here! Twitter/Instagram/Bloglovin'/Pinterest/Goodreads