Happy National Book Lovers' Day! The holiday of my people! To celebrate, in addition to reading (duh),
Kayla
had the genius idea of doing literary-inspired outfits. She asked the people to do an outfit based on their favorite character, and she'll post the lot of them on Babble. Ever game to participate in something book-related, I jumped at the chance. Can you guess who I'm channeling?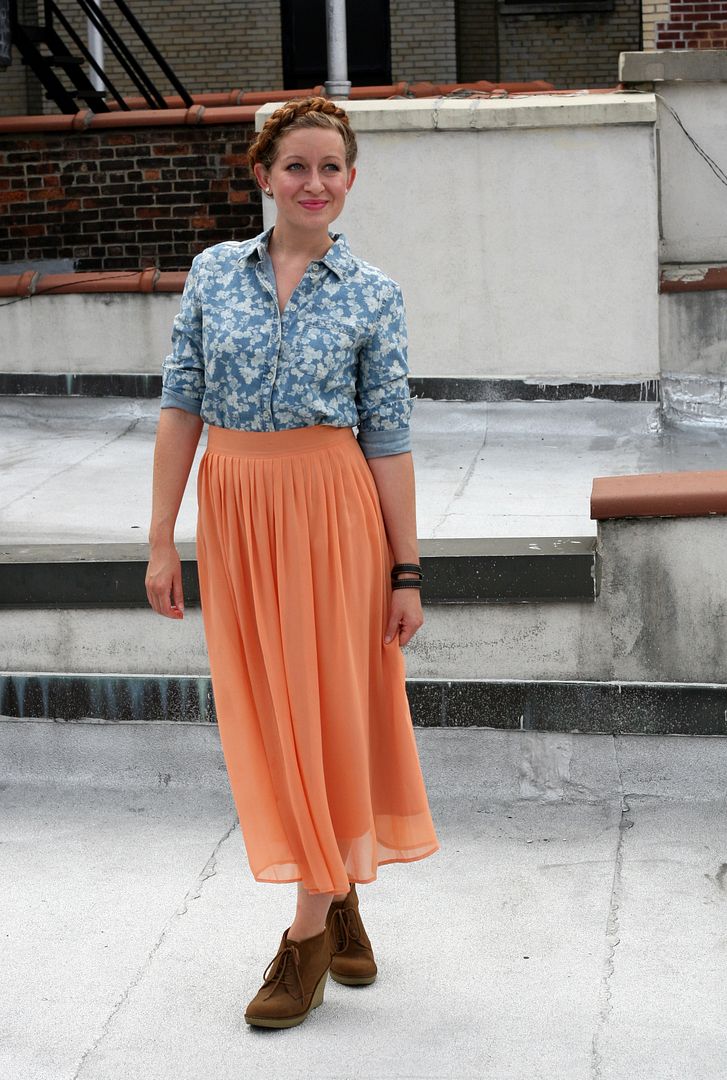 Shirt: Joe Fresh, Skirt: Forever 21, Bracelet: thrifted, Booties/earrings: gift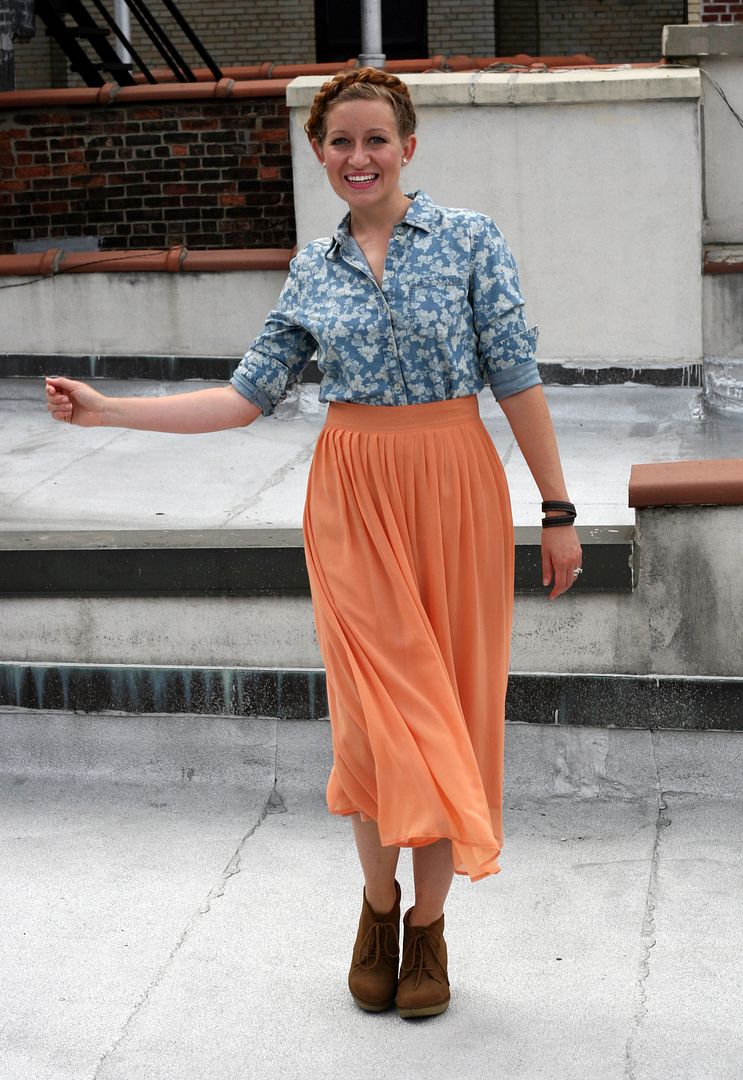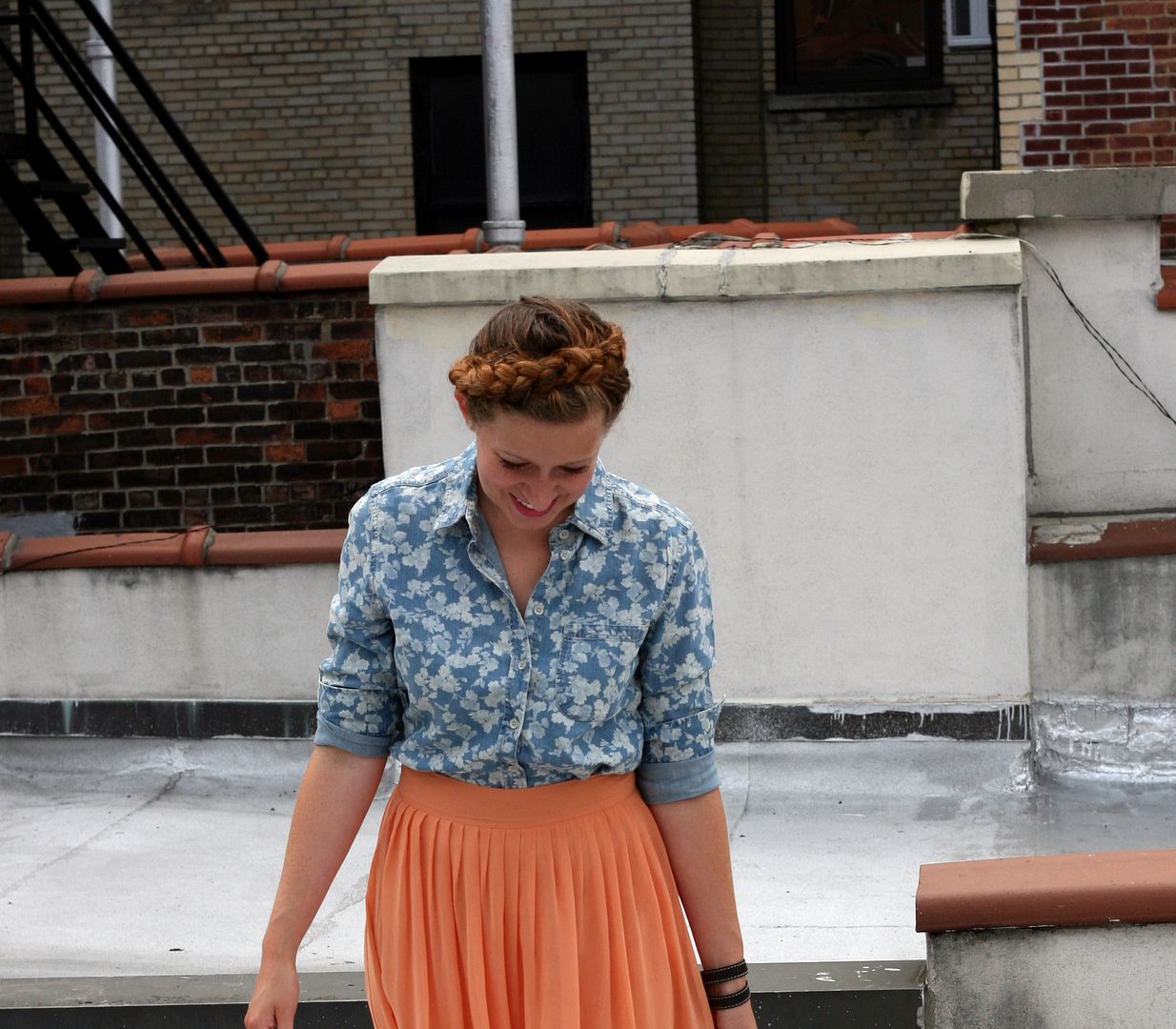 Let's zoom in on that crown braid, shall we? I'm quite proud of it, although I didn't realize how crooked it was until I saw this pictures. Hmm...
If you guessed Laura Ingalls Wilder, then you are correct! Other than the
Baby-sitters Club
books, the
Little House on the Prairie
canon were the first chapter books I ever read, and at the tender age of 7, I became absolutely enthralled. I have always had a deep love of history, especially American history, but even more than that, I thought I was Laura Ingalls Wilder. Not like the reincarnated version or anything, but just that we were so similar! I too was the 2nd oldest of a family of girls. I too was mischievous and energetic and always getting in trouble. I too had the very responsible older sister, beloved by adults everywhere, that I looked up to immensely. Said sister and I did everything together and had great fun, even though I'm pretty sure I drove her bonkers. I always prefer books when I relate closely to the protagonists, and the only difference between Laura and me was that she was a brunette and I am a blonde. And then the growing up and the love story? I think I wanted to be a teacher because of her, and my impressionable child's heart yearned for a love like Laura's and Almanzo's. Forget Disney making me a hopeless romantic (it did), these books made me a hopeless romantic (they also did). Oh, the Little House series...
Anyway, I picked up that floral chambray shirt recently (darn you, end-of-summer sales!) and knew instantly that I wanted to be LIW for National Book Lovers Day. If I were really to be LIW, I'd wear a red gingham dress, as you know, but I shockingly do not own one. Chambray and maxi skirt, it is then.
Now go over to
Babble
to see all the other literary outfits. Nerds who also like clothes unite!