Sometimes fate wants you to bake certain cookies. For example, a few weeks ago was World Nutella Day, and
Joanna
posted about various nutella recipes. I, of course, had to pin a few to probably never make, only drool over. I love nutella. Spencer loves nutella. But we never buy nutella. Then last week, I was meandering about Target aimlessly and saw that nutella was on sale, and I immediately thought of
these cookies
. Fate
obviously
wanted me to eat nutella-stuffed brown butter sea salt cookies.
I love fate.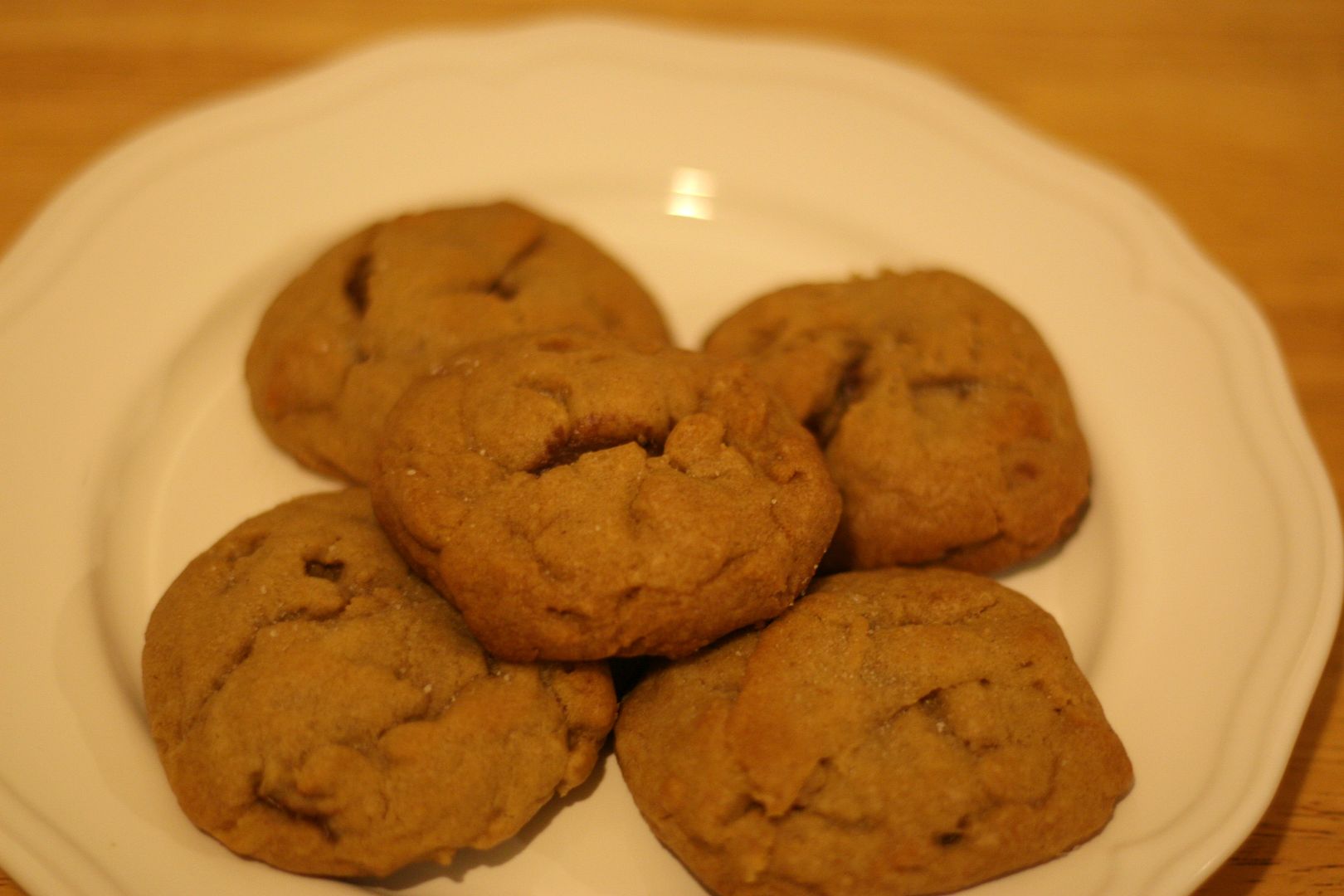 Nutella-Stuffed Brown Butter and Sea Salt Cookies
(slightly adapted from
Ambitious Kitchen
)
2 1/4 cups flour
1 1/4 tsp baking soda
1/4 tsp salt
2 sticks, or 1 cup, of butter
1 1/4 cup brown sugar
1/4 cup sugar
2 eggs
1 1/2 tsp vanilla extract
1 T plain, nonfat yogurt
1/2 jar of Nutella, chilled
Sea salt
1. Whisk together flour, baking soda, and salt in bowl. Melt butter in a saucepan and whisk continually until the butter turns brown and has a nutty aroma. Put in a bowl immediately, and set it aside to let it cool down.
2. Cream butter and sugars with an electric mixer. Add eggs, vanilla, and yogurt, and mix until combined. Slowly add the dry ingredients and mix until just combined.
3. Refrigerate the dough for at least 2 hours. I actually just stuck it in the fridge overnight.
4. After dough is chilled, scoop about 1 - 1.5 tablespoons of dough, roll it into a ball, and then flatten it out. Place about 1/2 to 3/4 tsp of chilled Nutella in the middle of the dough, and fold the dough around it. Add more dough if needed. Gently flatten the dough on a cookie sheet. Bake at 350 for 9-11 minutes, or until golden brown. Sprinkle the cookies with sea salt and let them cool on the cookie sheet for a couple of minutes and then on a wire rack.
5. Eat, enjoy, and realize that life wasn't worth living before these cookies.