Buying bananas used to be a race. A race to finish them off before they got all brown and mushy. But then I discovered banana bread and the joys of using overly-ripe bananas. Now I buy bananas, let them sit on my counter, and yell at Spencer if he eats them before they get ripe enough to make the bread.
About a month ago, I also finally learned about putting chocolate chips into banana bread.
Whoa.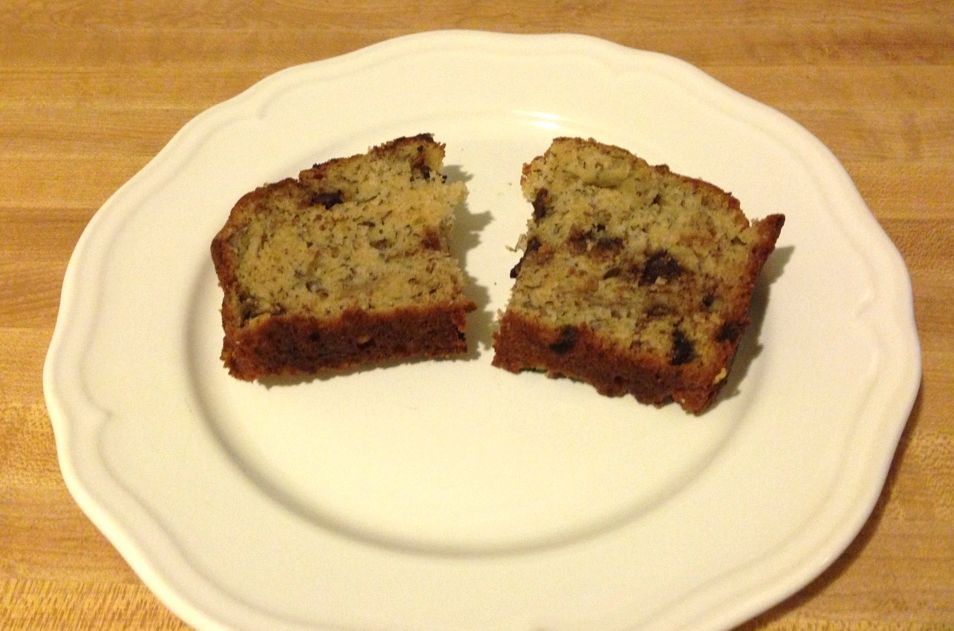 Chocolate Chip Banana Bread
(slightly adapted from America's Test Kitchen)
2 cups flour
2/3 cups sugar
3/4 tsp baking soda
1/2 tsp salt
3 v.e.r.y. ripe bananas, mashed
6 T unsalted butter, melted and cooled
2 large eggs
1/4 cup plain yogurt
1 tsp vanilla extract
1/2 cup semi-sweet chocolate chips
Whisk the flour, sugar, baking soda, salt, and chocolate chips in a large bowl. Whisk the mashed bananas, melted butter, eggs, yogurt, and vanilla together in a separate bowl. Gently fold the banana mixture into the flour mixture until
just
combined. Do not overmix! Nothing stresses me out more than seeing someone overmix bread ingredients. Pour the batter into a greased 9 by 5-inch loaf pan and bake at 350 for 55 minutes, or until a toothpick inserted into the bread comes out with just a few crumbs attached. Cool the bread in the pan for ten minutes before letting it cool for an hour on a wire rack. Or if you are me, pick at the crusty top of the bread while it's still hot.