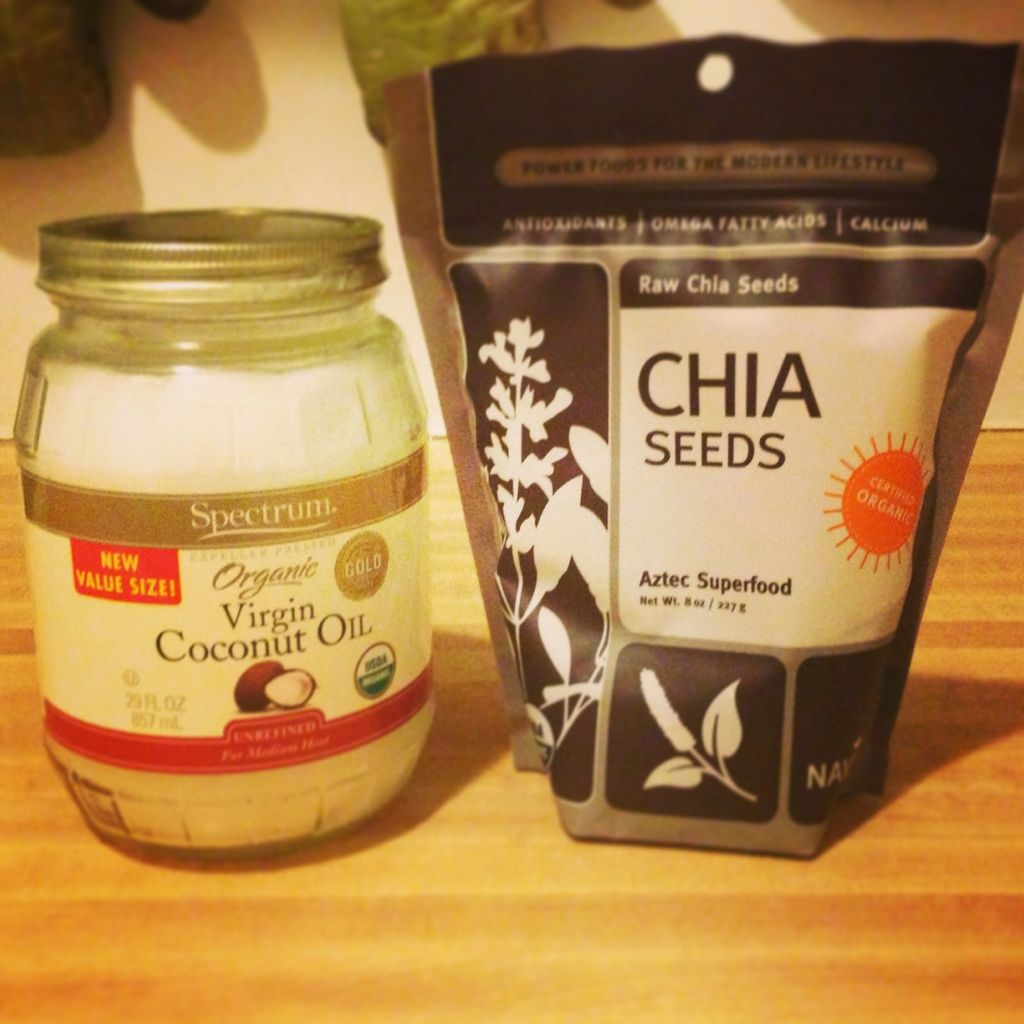 a couple of weeks ago, i finally took the plunge and forayed into the "natural" section of the grocery store. i had to elbow my way through a crowd of ironically-clad, mustached men and
yemmies
with their babies in moby wraps, but i emerged victorious with organic, raw chia seeds; organic, virgin coconut oil; and organic quinoa, from the bulk section. like i'd get pre-packaged, please.
ch-ch-ch-chia seeds
: this Aztec superfood claims to be full of antioxidants, omega fatty acids, calcium, dietary fiber and all sorts of ish packed into its tiny little shell. i took a cue or two from
grace
and started throwing this little guy into my
green smoothies
or the (rare) salad. this nutritional powerhouse is so unobtrusive that you don't even know you are eating it unless one gets stuck into your teeth. and then you find it a while later after it's gelled. eeeewwwwww.....i dunno if these give me energy, but i did end my caffeine addiction. so that's something.
coco-nutty oil
: i know, i know - i am SO late to the coconut oil game. i had heard of it's many, many benefits, but the final push to buy it came when my
friend and hair dresser
recommended it as conditioner. i had just had my hair re-did and was looking for products that didn't strip my hair of dye. so i tried using coconut oil as conditioner, twice.
do NOT use it like that!
leave-in conditioner, great. hair pomade, fabulous. (sorry,
dapper dan
) but when i used it as a normal conditioner, i came out looking like a greaser. like
john travolta
would be jealous. other than for my hair, i use coconut oil for a variety of skin/body care: moisturizer on my hands and feet at night, chapstick, cleanser in the shower. thanks to
mara
for the last suggestion. and yes,
kaitlyn
, i've used her other suggestion for coconut oil as well. ;)
as for cooking, the only time i've used coconut oil in the kitchen is in my smoothie, per
kayla
's suggestion. but it sure did make the best smoothie EV-UH! frozen mango, 1 banana, 1 small orange, chia seeds, yogurt, milk, spinach, coconut oil, and agave. to keep this smoothie from getting too hip, i used cow milk, not almond.
quinoa
: got any good quinoa recipes? i like it as a substitute for rice and with pesto and sun-dried tomatoes. but what else? got any favorites?
k, that's it. now excuse me while i go knit a bunch of sweaters for my cats while wearing my over-sized warby parker glasses.