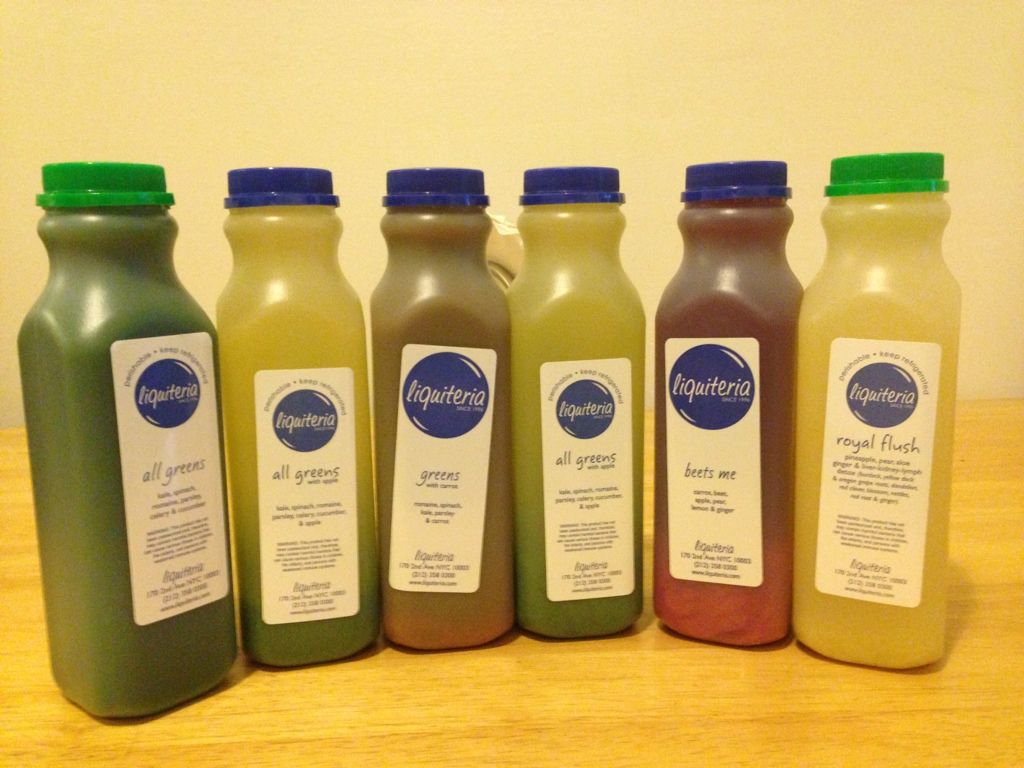 Last week, as part of getting this year started off right, I did a three-day juice cleanse.
Like everyone else in the interweb world, I've seen multiple people rave about juicing and cleanses and yadda yadda yadda. I've even made my own juices back in the day when I dabbled with
eating raw
. But I had never subsisted solely on juices, partially because pre-bought cleanses are pricey and partially because I didn't want to put in the effort to make all my own juices for multiple days. Then the cheap and lazy stars aligned, and I had a discount to
Gilt City
, which had a coupon (basically a discount on a discount) to
Liquiteria
. One online purchase and one phone call later, and I had a cleanse set up!
Three days, six juices per day.
I had to drink a juice every 2 to 3 hours as well as my weight in ounces of water and nothing else. No food, no beverages, nothing but fruit/veggie juices and water. Just drink, drink, drink.
And so how was it?
Short answer: fantastic! I recommend doing one (if your health and physician allows it, of course. I'm not a doctor and don't claim to say what is good for anyone's health).
Long answer: fantastic! But here's some things you need to know:
One - this is a CLEANSE, and you will be cleaned.out. In addition to drinking a gazillion ounces of fluid, you are drinking juices specifically designed to empty your digestive system. The last drink I'd drink each day was called "Royal Flush." In other words, expect to spend a lot of time in the ladies' room. Ew. (Note: this was the worst on the first night, and it was completely my fault. The consultant at the juice place told me to eat 80% raw the night before starting the cleanse, or all the juices would be a shock to my system. I ate 7-layer dip. The juices shocked my system. Nights 2 and 3 weren't nearly as bad.)
Two - you may not get hungry but you may obsess over chewing. It's true, I didn't get hungry. 6 juices and a ton of water filled up my stomach. What it didn't do was satisfy that desire to chomp into hunk of bread. So...it might have been taboo, but I had a piece of gum each day. Sue me. Other than that I didn't cheat. I didn't even
want
to until Friday, the last day, when my company ordered in Turkish food for lunch. Turkish food is my
faaaaaaav
so resisting that was the pits, but I held strong. (I also watched "
Fat, Sick, and Nearly Dead
" on night one to keep me motivated. It most definitely worked.)
Three - the juices were actually delicious! Ok, one of them was hard to swallow (all greens with carrots) and another was just so-so (all greens), but the other three flavors (one was repeated) were enjoyable, nay, delectable! The "all greens with apple" reminded me of my favorite juice from when I ate raw, and I had trouble not guzzling that sucker down.
And that's basically it. I felt great while juicing (some people get headaches? not me), and I plan on busting out my old juicer to keep the tradition alive. Spencer even wants to juice now. Whaaa??? As well as supplemental juicing, I think I want to do one of these cleanses every few months. Just to keep me on track, ya know, and to get the right nutrients. Here's to juicing and here's a healthy 2013!