I've posted work outfits, weekend outfits and Sunday outfits. Today I will post an outfit of a different sort:
Meeting up with Spencer after the race. He spotted me among the crowd and like a good blogger-husband, started snapping pics.
A sweaty, salty, nasty, tired, hungry, slightly bloody, ecstatic, triumphant and exultant running outfit. Complete with finisher's medal and food. :)
My time was 2:03:54, and I hit my two goals of not walking and having an average pace under 10 minutes per mile. So obviously, the race went fantastically, but even with all my preparations (running the distance before the race, memorizing the course, the most absurdly over-packed bag, etc.), there were still plenty of surprises, both good and bad.
The biggest surprise was the amount of people running the race and what that meant. I knew that 15,000+ were running, and I knew that we would be squished together at the beginning, but I didn't really know how that translated into my running. I didn't realize that the first 2 miles or more would be spent sprinting, dodging, weaving and passing. Also the claustrophobia of running in such tight spaces. I've lived in Manhattan for almost 3 years, so I'm no stranger to crowds, but running in a crowd was much different than standing in one.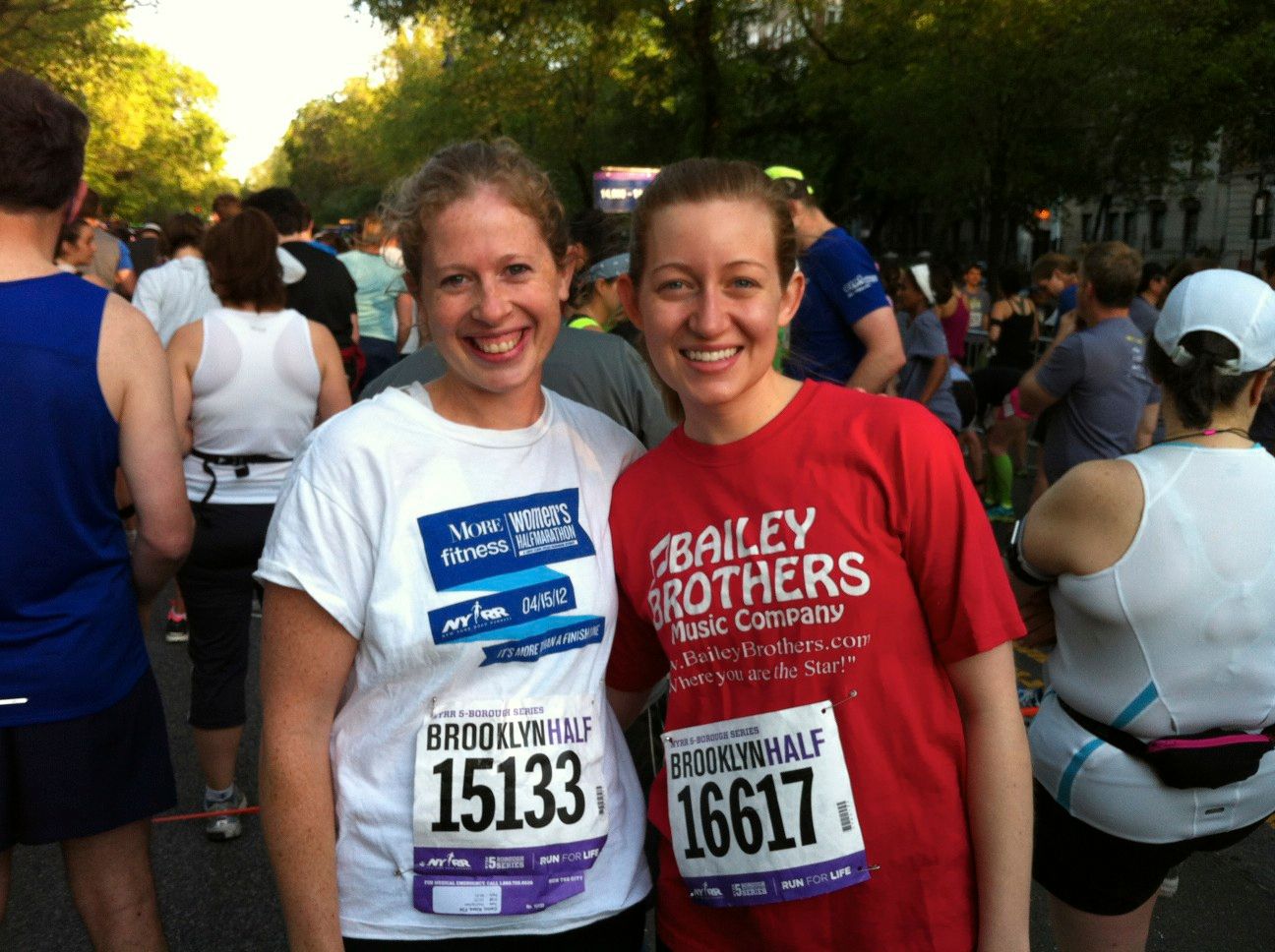 All energetic pre-race. Photo from Kiasa.
The second surprise was the effect of the sun. Living in Manhattan and running in Central Park means that I am always in the shade (as evident by the paleness of my legs. yikes!). Between the tall trees and taller buildings, I have to seek the sunshine. But Brooklyn isn't like that at all. The first half of the race was fine with the 7 am start and running in Prospect Park, but the last half on that long stretch of highway was killer. And it was SO hot! I think that may have been why I struggled more than I did during my practice runs, but who knows.
Ok, now the positive surprises, which greatly out-number the negative.
First, I loved having a journey, an end-goal as opposed to just making loops in the park. By the end of my training, I was sick of doing the same runs over and over, so doing a whole new course was fun and exciting.
The spectators! Oh my goodness, having people cheering and encouraging you is such a boost! Hearing the claps, shouts, bells, whatever was like an energy shot every time. Thank you to all those who watched and cheered this race and any other race! It means so much to the runners!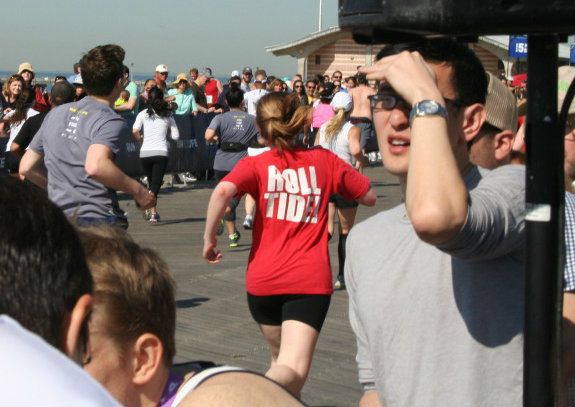 Spencer miraculously captured this as Kiasa and I sprinted the last 200 meters to the finish.
Similar to the encouragement from the spectators was the feeling of community from the racers. Technically, yes, we were racing against each other, but it felt more like we were racing with each other. We cheered and supported each other. For example, I saw someone fall (those water/gatorade cups are dangerous!), and another runner stopped to pick her up.
Also, the reason I wore the shirt above was because of the sense of community. On my last long practice run, I wore this shirt, and I got tons of shouts of "Roll Tide!" (the University of Alabama's battle cry) I would cheer and shout in response, and each time I would smile and laugh. Hoping that the same would happen, I wore the shirt for the actual race, and again, I got shouts of "Roll Tide!" Two guys even passed me, saying they were Bulldog fans (UGA) and that my shirt gave them the encouragement to push on, haha! (Quick story about this shirt: this technically wasn't my first race. In my senior year of high school, I did the 5k Race for the Cure with my dear friend who had lost her mom recently to breast cancer. But because I had a broken foot and was wearing a boot, it was more of a Hobble for the Cure. While walking, people in the crowd were giving out shirts, and guess which shirt I got! Yup! The one I wore on Saturday, and I had completely forgotten its origin until AFTER the half marathon. Crazy, huh?)
The last two positives I want to talk about weren't really surprises, but I was kinda surprised the difference they made, even though I totally shouldn't have been.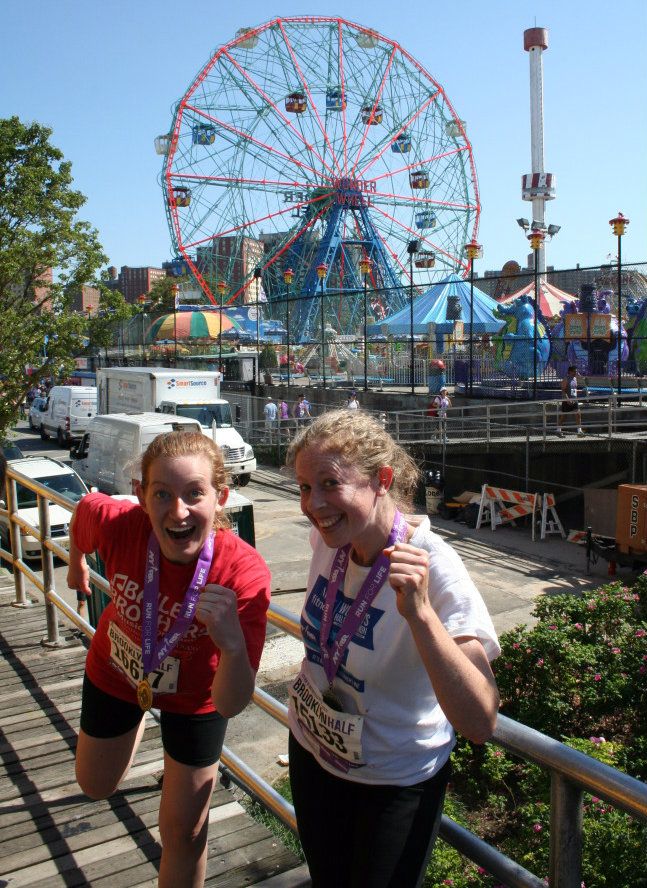 Running man! We did this for 13.1 miles, suckas!
First, Spencer. He woke up crazy early on a Saturday, toted my aforementioned over-packed bag, made the hour and half subway ride to Coney Island and patiently waited in the massive crowd for me to finish. Then, he kindly snapped photos of Kiasa and me, fetched us McDonald's (post-race breakfast of champions!) and then rode the long subway ride back home. And all the while he knew he would have to spend the rest of the day catching up on his bar prep homework. Thank you Spencer for coming!
Second and most important,
Kiasa
. I absolutely could not have done this without her! Knowing she was waiting for me was the reason I got up at 5:50 on Saturday mornings. Chatting while we ran made those longer and longer runs bearable. Having someone to do this whole race with made it fun and social. Then as for the actual race, if it weren't for Kiasa pushing me, I would have stopped to walk. I wouldn't have finished strong by sprinting the last meters (all her idea). Kiasa, thank you! Thank you for pushing me, for doing this with me, for putting up my crazy litany of "1 more mile, you can do this, 1 more mile" at the end and for being my inspiration. Thank you!
I have another race, a 10k, in a few weeks, and I will most definitely do another half-marathon. Because all in all, I loved it. I loved knowing I could run that far and then doing it. I loved crossing the finish line. I loved being able to eat all that I wanted. I loved my post-run naps (yes, that's plural on purpose) and bath. I loved being sore and knowing what the soreness meant. I love being in the best shape of my life.
I love running...or at least I love the end product.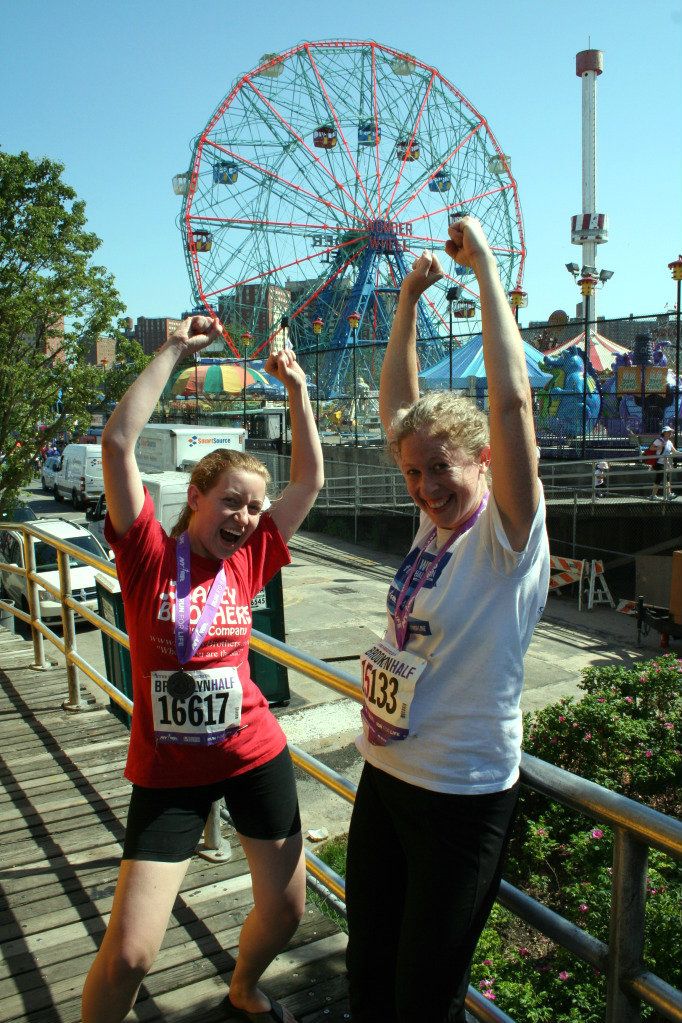 Triumphant runners!