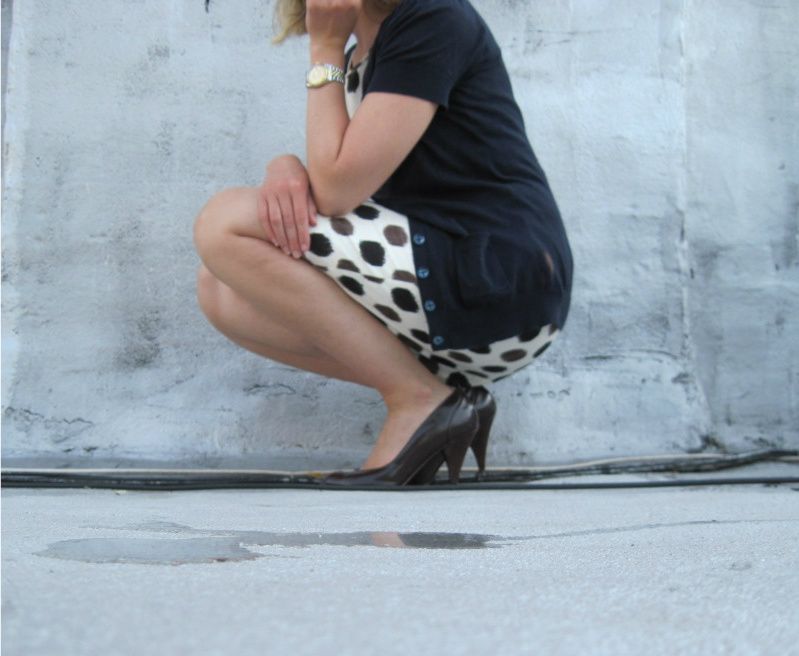 Dress: Kate Spade thrifted, Cardi: hand-me-down, Heels: Steve Madden, Folex: Spencer's
Dear Woman with Scissors,
Look, lady, I understand. Cutting stuff up is fun! From the ages 5-10, I cut every single one of my Barbies' hair. For one unfortunate year not too long ago, I even thought I could cut my own bangs.
Yikes
. Using scissors was always my favorite part of art class, and not much has changed. But seriously, even as much as I enjoy the steely sound of scissors snipping, I know where to draw the line. And a Kate Spade dress is on the "do-not-cut" side of the line!!!!!
Of course I went ahead and bought the dress you gave away ($2 for a Kate Spade sheath dress? Hecks yes!). And I also sewed up the 2 tiny holes you created in the fabric. But what can I do about bib/ruffle/whatever you removed from the neckline? Sure, I could take it to a tailor, but then the dress would no longer cost me $2. Guess I just have to wear it with pride and pretend no one can see the frayed neckline (which honestly, you really can't unless you get super duper close. Please, I'm not completely shameless).
But for the sake of all us thrifters, stop cutting up your expensive clothes!
Thanks,
Erica